They're not just for college kids.
Japanese noodles are as gourmet as it gets.
Interested in trying noodles in Japan? Amnet's concierge service can make reservations and recommendations.
There are several different types of noodles in Japan. The flavors of the soup and the toppings differ very much depending on the region, and people enjoy traveling domestically to experience these differences in their own food. Japanese people slurp their noodles to show the owners that they are enjoying their food, so don't be shy, you can do the same!
Soba are thin noodles made of buckwheat flour, and can be served hot or cold. When eaten hot, they will come in a large bowl filled with soup and noodles with several toppings. Some of the popular toppings are: kitsune (fried, sweet tofu), green onions, wakame (a type of seaweed), tempura, tanuki (bits of fried tempura batter), or tsukimi (raw egg). When served cold, you will receive a small cup of sauce together with the noodles, in which you dip the noodles before eating. Small portions of toppings such as green onions and wasabi can go in the sauce if you like.
(Photo Copyright:©Matsumoto city/©JNTO)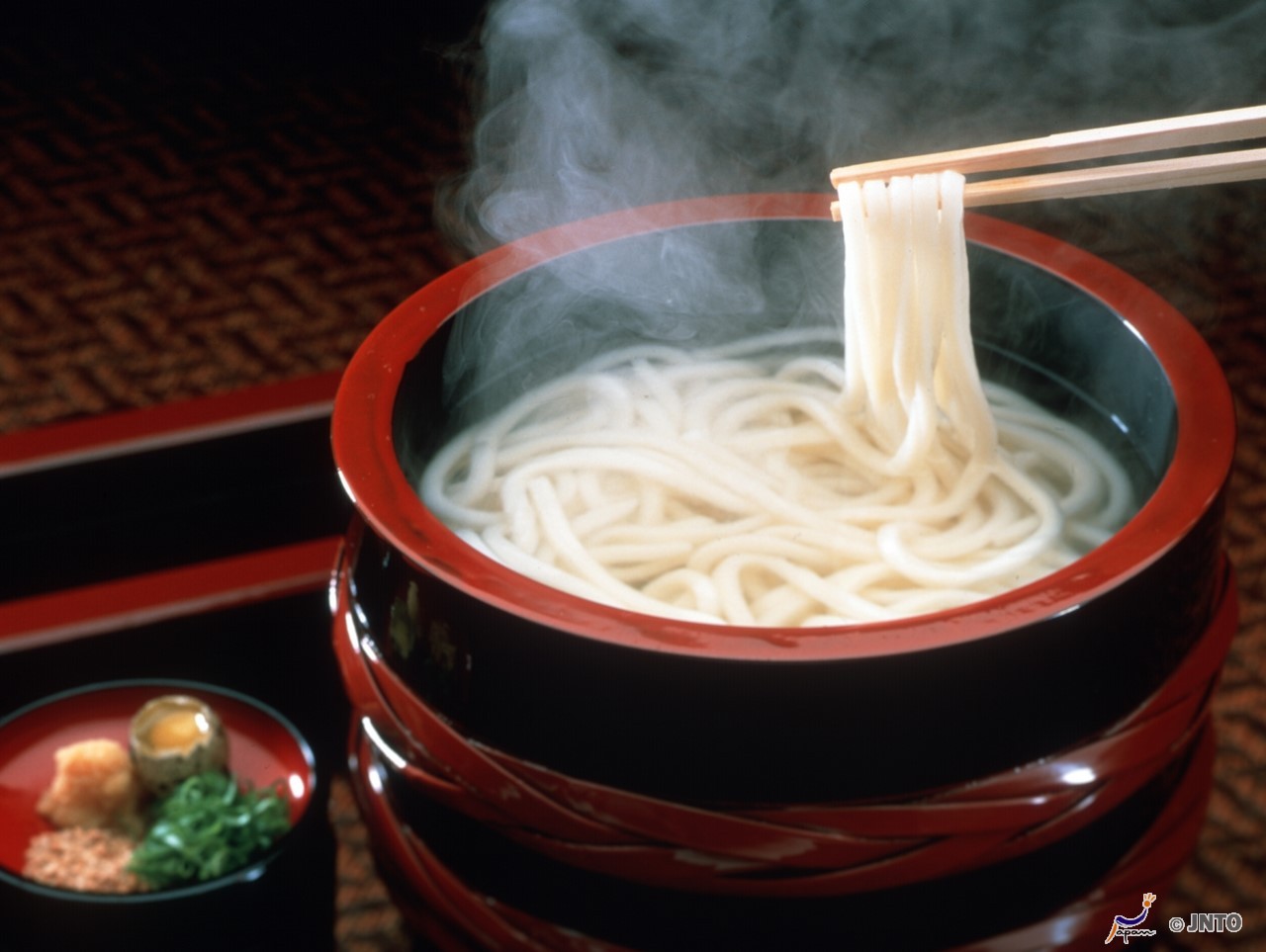 Udon are noodles made of flour and are much thicker and chewier than soba noodles. However, they are both served the same, hot or cold, along with similar toppings.
(Photo Copyright: ©JNTO)
Somen is a very thin white noodle made of wheat flour, and is often preferred in the summertime when people lose their appetite from the humid heat. It has a very simple flavor and is easy to prepare. It is usually dipped in a sauce and eaten together with several toppings such as green onions, ground ginger, seaweed, cucumber, tomatoes, omelette, etc…
There is a summertime activity using these noodles called 'nagashi somen', which is where the noodles are washed down bamboo (cut in half lengthwise), and people try to catch the noodles with their chopsticks. It is a summertime fun for children and families.
(Photo Copyright: ©Saga Prefecture/©JNTO)
Ramen is a noodle soup dish, using Chinese noodles. The soup is usually made from meat broth and/or fish broth, and the choice of toppings have a wide variety. The four main flavors of soup are: shio (salt), tonkotsu (pork bone), miso (soybean paste), and shoyu (soy sauce).
(Photo Copyright: ©Kagoshima Prefectural Tourist Federation/©JNTO)
Tsukemen is a noodle dish where the soup and noodles come separately. Just like soba, you dip the noodles in the soup before eating. The soup is usually served hot, but noodles cold.
Hiyashi chuka is a summertime noodle dish, and is served cold. The noodles come on a dish with chopped ingredients on top: cucumber, ham, omelette, tomatoes, seaweed, imitation crab, etc.
Different Flavors and Side orders